2015 was a tough year for data breaches. Companies of all sizes and industries fell victim to hackers, costing billions of dollars and harming the reputations of many organizations. So what is in store for 2016? Will cybercriminals continue to find new ways to get onto networks or will enterprises be prepared to prevent damaging security breaches? To get a better understanding, we surveyed IT security professionals to see what challenges and changes they expect for 2016.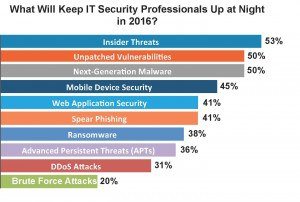 When asking respondents what was their biggest concern, insider threats took the top spot, followed by unpatched vulnerabilities and next-generation malware. Interestingly enough, these top three concerns echoed the results of our 2013 survey. There is an increased concern of mobile devices (BYOD) and Spear Phishing, while Brute Force and DDoS attacks were lessor concerns.
The concern around insider threats is consistent with among industry professionals, and continues to be a growing concern for IT security professionals; this is not surprising, sources suggest about 50% of targeted attacks are carried out by insiders, such as disgruntled ex-employees or consultants who inadvertently disclose privileged information. These attacks also point to a greater concern – the lax controls some companies have, i.e. shared accounts with administrative privileges or lackluster monitoring of the behavior of exiting employees.
While the fear of insider threats is keeping respondents up at night, they are not anticipated to be the most threatening attackers in 2016. This list is topped by cybercriminals, and followed by state sponsored attackers.
Respondents overwhelmingly said that the majority of security incidents happen outside of normal business hours. This demonstrates the importance of monitoring networks on a 24x7x365, getting quick and timely alerts with the ability to respond to attacks efficiently and effectively. Due to the lack of resources available at most companies, more and more security teams are looking outside their organization for help.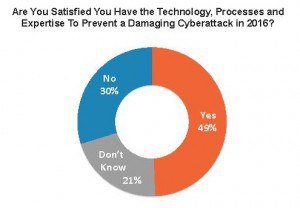 More companies are finding the solution to these problems through outsourcing some or all of their IT security operations. This allows them to concentrate on other issues while also being confident their networks are safe. For 2016, the trend is toward more outsourcing; on average, 15% plan to increase outsourcing versus 3% who plan to reduce it. The most popular task for outsourcing was penetration testing, followed by 24×7 security event monitoring and alerting and compliance assessments. Management of firewalls or security devices was the least common task to be outsourced.
It seems clear that 2016 is anticipated to be another active year for cybercriminals. IT security teams are working hard to make sure their networks are safe yet if you are using, or considering, an MSSP, you are not alone. To see how Proficio can assist with your security operations, please contact info@proficio.com.
https://www.proficio.com/wp-content/uploads/2016/02/Survey-Faces.jpg
660
1280
Brad Taylor
https://www.proficio.com/wp-content/uploads/2019/07/Proficio-Logo-200x69.png
Brad Taylor
2019-10-21 20:18:32
2020-04-05 19:12:43
Annual Cybersecurity Survey Reveals Challenges for 2016